Muse Hauling offers quality service and superior workmanship in our commitment to deliver a superior service to our clients.
Muse Hauling & Grading has been in construction and transportation since 1988. At Muse Hauling we are committed to quality customer service, and superior workmanship. We offer our customers a wide variety of services including lot clearing, grading, hauling, gravel delivery, demolition, driveways, retainer walls, sea walls, house footings, basement, and concrete/brick work.
Muse Hauling and Grading uses a wide variety of heavy equipment on our projects. We have several excavators for large projects such as clearing and digging, and a mini-excavator for smaller projects like ditches, piping, footings and trenches.
Located in Denver, NC, we also service the towns of Cornelius, Dallas, Huntersville, Lake Norman, Lincolnton, Maiden, Mooresville, Mt Holly, Newton and Stanley. Read what some of our customers have to say about Muse Hauling & Grading on our Testimonials & Referrals page.
Hauling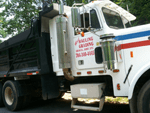 Muse Hauling and Grading has a variety of trucks to ensure we can handle all your hauling needs from, gravel, fill dirt, top soil, rip-rap, or mulch. With over 20 safe years experience in transportation, I promise that only professional, safe and courteous drivers drive our trucks.
Read more »»
Grading-Lot Clearing
Muse Hauling and Grading is extremely knowledgeable in the process of grading your property. From lot clearing to light, fine tune grading, we have the equipment and experience to complete the job in a professional timely manner .
Read more »»
We also offer bob cat services!
Demolition
Muse Hauling and Grading can take care of all your demolition needs. Our experienced crew can remove old driveways and buildings, piers, boathouses or debris safely and efficiently. Demolition is not complete until we haul away the debris.
Read more »»
Concrete & Brick
Muse Hauling and Grading has some of the best brick masons and concrete men in the business. We can handle your all concrete and brick work, including driveways, sidewalks, pads, curving, brick underpinning, and block work.
Read more »»
Retainer Walls & Sea-walls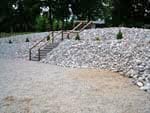 Muse Hauling and Grading has the experience to build the retainer wall suited to your needs. Our walls are built from quality wood, brick, or Allen block, rip-rap seawalls, and concrete walls. We build all our walls with the quality and workmanship you expect and deserve.
Read more »»
Muse Hauling & Grading is fully insured and bonded and can provide our clients with a certificate of liability when requested.