Riprap, also known as rip rap, rip-rap, shot rock, rock armour or rubble, is rock or other material used to armor shorelines, streambeds, bridge abutments, pilings and other shoreline structures against scour, water or ice erosion.
It is made from a variety of rock types, commonly granite or limestone, and occasionally concrete rubble from building and paving demolition. It can be used on any waterway or water containment where there is potential for water erosion.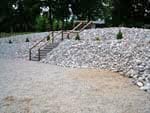 Riprap works by absorbing and deflecting the energy of waves before they reach the defended structure. The size and mass of the riprap material absorbs the impact energy of waves, while the gaps between the rocks trap and slow the flow of water, lessening its ability to erode soil or structures on the coast. The mass of riprap also provides protection against impact damage by ice or debris, which is particularly desirable for bridge supports and pilings.
It is frequently used to protect the base of old Edwardian and Victorian sea walls, which being vertical are often undermined. The riprap absorbs the impact of the waves as they shoot up the wall and then fall back down.